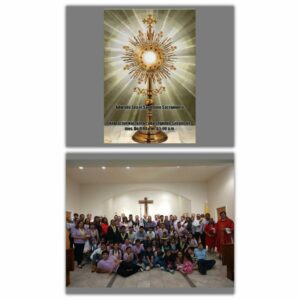 BLESSED BE THE HOLY SACRAMENT, JESUS IN THE EUCHARIST!
THE NOCTURNALIST IMITATES JESUS ​​RETURNING TO PRAY IN THE LONELINESS OF THE NIGHT, TO SO CONSOLATE HIS MASTER IN THE GARDEN OF GETSEMANI. SPEND THE NIGHT IN WATCH CONSOLIDATING JESUS, SOMETHING SIMILAR TO THE WAY AS VERONICA CLEANED THE DIVINE FACE OF OUR LORD, THE SACRED BLOOD THAT THE LORD VIRTED IN HIS AGONY – THE PRECIOUS BLOOD SPILLED FOR THE FORGIVENESS OF SINS AND TO OPEN YOU FROM HEAVEN TO ALL.
RESOURCES:
NOCTURNAL ADORATION RITUAL
EL NOCTURNALISTA (monthly magazine with the Pope's intentions and more information from the N.A.S.)
NOCTURNAL ADORATION MEETS ON THE SECOND SATURDAY OF THE MONTH, FROM 9:00 PM TO 5:00 AM
(Due to the current situation of the Covid-19 pandemic, at every Night of Worship, we have a fairly limited time of just one hour from 9 to 10 PM on the 2nd Saturday of the month, with a maximum capacity of 120 people, in the temple).
(If you have questions, please call by phone during Church office hours, or through Hispanic Ministry on Facebook, to clarify any questions. Thank you).