A Greeting From Our Pastor
Welcome to St. Gerard Catholic Church!
St. Gerard's has an inspiring history of welcoming people from different backgrounds.  Originally an African-American parish, it opened it's arms to accept new arrivals from Latin America, and then to help new families from Africa.  We speak English, Spanish, Kirundi, Kinyarwanda, and sometimes Swahili together at our Masses.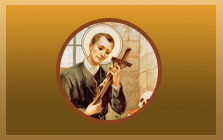 Our faith in Christ unites us, as we make our pilgrim way together.  Hopefully you will find the information here on our website helpful.  Father Jaime Guardado and myself, our staff, and all our parish volunteers, stand ready to help in any way we can.
We have entered into an exciting new phase of our history as a parish.  As we celebrate our 75th anniversary, we give thanks to God for bringing us together, and for giving us a share in His divine love.
Yours in Christ,
Fr. Danny Cogut, Pastor